External Options
Design Your Pemberton
Pemberton Park & Leisure Homes want to ensure that you can enjoy your new home for years to come, so we have chosen the best claddings and external options, in a range of beautiful and environmentally friendly colours.
Cladding
CanExel Naturetech Cladding
CanExel Naturetech cladding offers a durable and low-maintenance alternative to traditional wood cladding. It is resistant to rot, insects, and decay, and designed to withstand harsh weather conditions.
Using a low-energy manufacturing process, CanExel is environmentally friendly. It is produced from a mixture of sustainable wood fibers and resin, which are then compressed and molded into boards that resemble traditional wood siding.
CanExel Naturtech cladding is available on our entire collection, providing the opportunity to turn any of our holiday homes into a lodge.
Cladding

Vinyl Cladding

Vinyl cladding is a durable yet low-maintenance cladding option made from polyvinyl chloride (PVC), it is popular with static home owners due to its energy-saving qualities. Similar to aluminium cladding, vinyl cladding requires minimal maintenance, does not rust or corrode and can last for many years without needing replacement.

At Pemberton, we offer a woodgrain effect vinyl cladding option across our static home collection, and it is fitted as standard on our twin-unit homes.

View the vinyl cladding colours

Cladding

Aluminium Cladding

Aluminium cladding possesses a protective layer that enhances its resistance to scratches and other forms of damage. Unlike many other materials, aluminium does not rust or corrode, making it an ideal cladding option for static homes, as it can last for many years without needing replacement.

At Pemberton, we offer aluminium cladding on our entire collection of static homes, available in both standard and woodgrain finishes.

View the aluminium cladding colours
Cladding

Stucco Cladding

Stucco cladding is an exterior wall finish made of cement-based plaster material that is popular with many park home owners. Its ability to help park homes blend in with permanent buildings provides static homes with a true home-from-home feel. Stucco cladding is durable, easily maintained, and energy-efficient, thanks to its insulation properties.

At Pemberton, we offer stucco cladding across our entire twin-model collection, meaning that any of our twin-models can be transformed into a park home.

View the stucco cladding colours

Cladding

Thermowood D Redwood

Thermowood D Redwood is a type of softwood that has been thermally modified to enhance its durability, stability, and resistance to decay. Thermowood is ethically sourced from sustainable forests and has a distinctive dark reddish-brown color that is achieved through the thermal modification process. It will require a yearly coating to preserve its durability, but remains a firm favourite with lodge enthusiasts.

At Pemberton, we offer Thermowood D Redwood across our entire collection.

Further info on Thermowood
Options
Windows & Doors
How your Pemberton Park & Leisure Home should look is a personal choice, so we offer as many aesthetic choices as possible.
You may want your windows and doors to blend in with your cladding, or maybe you love to see the contrast. Either way, we offer a choice of colours in our PVCu double-glazed windows and doors, right across our entire Pemberton collection.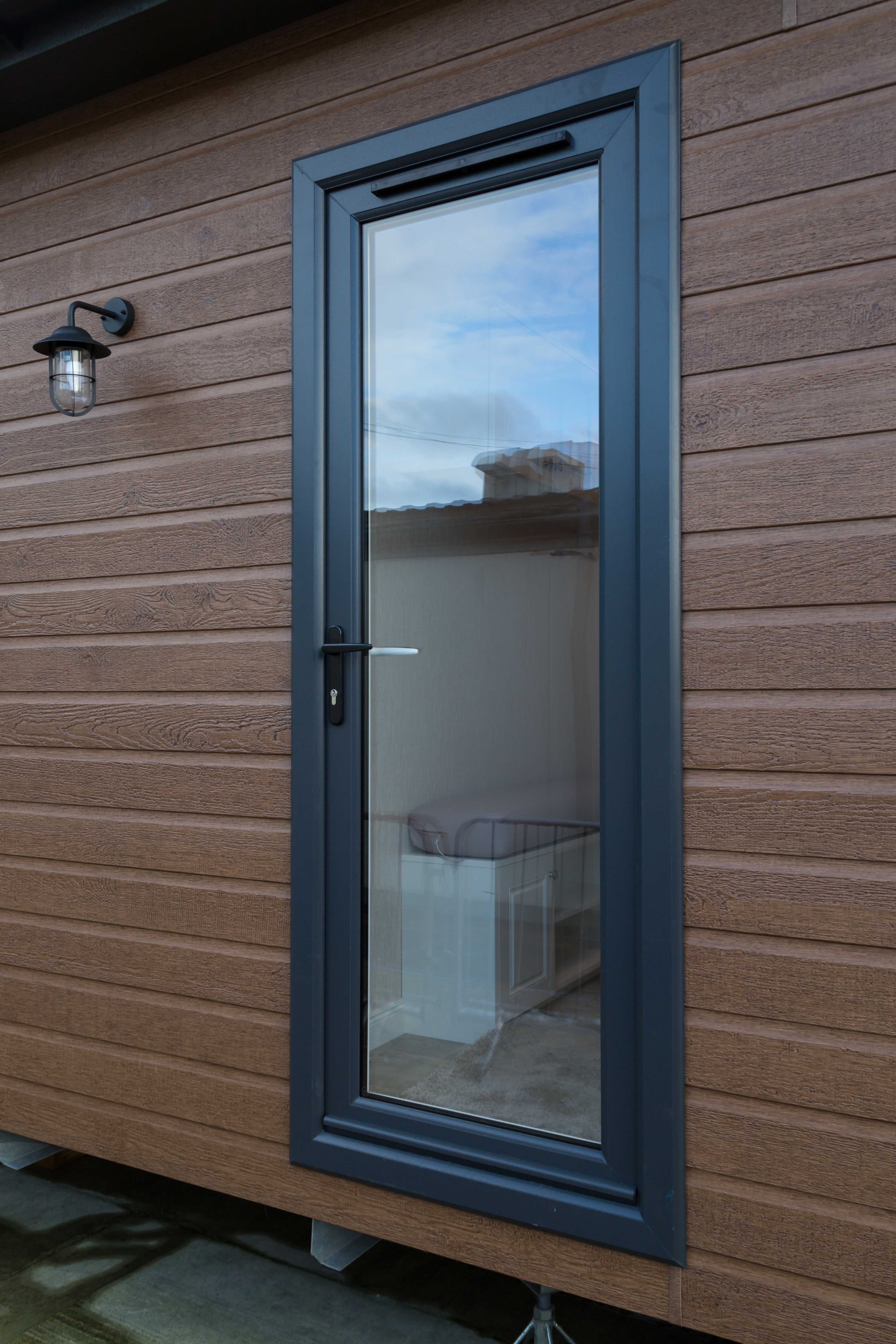 Options
Decking
If you are looking for a truly spectacular finish to your Pemberton Park & Leisure Home, then opt for a stylish decking solution.
Offering a comprehensive choice, ranging from decking and balustrades to skirting and lighting, you can customise your home to suit the aspect of your plot.
Pemberton FAQs
Your questions answered...
Can I purchase a decking for my new Pemberton?

Yes you can! Here at Pemberton we offer a wide selection of decking options, available to view here. We also offer cladding selections, viewable here.
Read more
What you said
Maureen Easton
29 December 2022
MY PEMBERTON MYSTIQUE IS NOW '''' 15 YEARS OLD ''''' AND STILL AS GOOD AS NEW.....NEVER HAD A SINGLE PROBLEM APART FROM A REPLACEMENT PART TO THE BOILER...''' love it '' Thank you = PEMBERTON,,,.
David Patchett
19 December 2022
I have owned a Pemberton Static caravan for 10 years. It is the best caravan I have ever had and dispite its age it is as good as new.
Ian Sinker
9 December 2022
We are the proud owners of a Pemberton Arrondale having previously owned a Pemberton Rivington. The quality of the build, finish and décor etc. is great and sets their models apart from other makers. f we were to upgrade again we would need a lot of persuading to move away from a Pemberton model.
Nigel Moll
9 December 2022
I bought a Pemberton Marlow this year and it's absolutely wonderful in every way. The accommodation is spacious, the layout brilliant and the quality of the fixtures and fittings superb. The master bedroom is everything you could ask for, the kitchen fully equipped and the lounge a perfect place to relax, whether it's watching the sunset through the patio doors or the TV in front of the fire. Add to that central heating, full insulation and a great bathroom and it's ideal in every way.
Neil Blackburn
8 December 2022
This year we replaced our eighteen year old Park Lane with a new 3 bed Marlow. The service and attention we received from Rose at Pemerton and Olan at Olan and Son was nothing short of superb. From planning the model we required through to delivery was top notch. As for the mobile itself, "you pay your money and you get what you get" - this is a wonderful holiday home and with the residential spec could easily be used throughout the year. The fittings and general construction remain as high as the original Park Lane we had. Thank you Olan & Rose
Sue Harvey
7 December 2022
Love our Pemberton Langton, a real home from home!